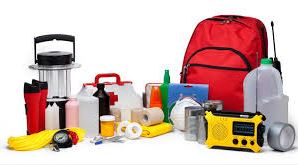 In light of the recent tumblers we have experienced in the Southern California area this weekend, I thought that this post was timely to remind ourselves about the importance of having an Emergency Preparedness Kit for ourselves and our families. Inventory of Casey and my kit revealed that we definitely have room for improvement. I envision that we are not the only ones in this position and in light of that, I wanted to share some info I found about these kits.
First, your kit should be a basic collection of items that you or your family may need in case of an emergency. It is important to have your kit assembled ahead of time and easily accessible should you need to evacuate in a moments notice. Your kit should have sufficient quantities of food, water and supplies to last for at least 72 hours and should contain items that allow you to manage if electricity, gas, water, telephone and sewer services experience outages.
The following are items that your kit should consist of at a minimum:
One gallon of water per person per day for at least 3 days to be used for drinking and sanitation;
A 3 day supply of non-perishable food (usually anything in a can or box and if in a can, make sure you have a can opener);
Battery-powered or hand-crank radio with extra batteries;
Flashlights with extra batteries;
A first aid kite;
A whistle to signal for help;
A dust mask to filter contaminated air;
Plastic sheeting and duct tape to shelter-in-place;
Moist towelettes, garbage bags and plastic ties for personal sanitation;
Wrench or pliers to turn off household utilities;
Local maps.
These additional items, should also be included in your kit on an as needed basis:
Prescription medication and glasses;
Instant formula and diapers for infants;
Pet food and additional water for your pets;
Important family documents and financial information in a water-proof container;
Cash/traveler's checks/change;
Sleeping bag or warm blanket for each member of your family;
Complete change of clothes;
Household chlorine bleach and medicine dropper – When diluted nine parts water to one part bleach, bleach can be used as a disinfectant. Or in an emergency, you can use it to treat water by using 16 drops of regular household liquid bleach per gallon of water. Do not use scented, color safe or bleaches with added cleaner;
Fire Extinguisher;
Matches in a fireproof container;
Feminine supplies and personal hygiene items;
Eating utensils, including silverware, plates, cups, bowls, etc.;
Paper and pencil;
Books, games and other activities for children.
You never know when you will need the kit, however, it is far better to have the kit and never have to use it as opposed to not having a kit and be in dire needs of its contents.